About
Welcome to the Hy Peskin Collection!
Born in Brooklyn, NY in 1915 to Russian immigrants, Hy Peskin would grow to become one of the most revered photographers in American history. Peskin spent his career shooting icons of history, covering sport and political dynamos from angles both candid and stark. American icons like Jackie Robinson, John F. Kennedy, Marilyn Monroe, John Elway, Joe DiMaggio, Ben Hogan, Rocky Marciano, and others rose to fame in front of Peskin's lens.  He began his career at Ebbet's Field, where he made the Dodger's a household name. As they were catapulted to fame, so too was Hy's career – He soon became the most renowned photographer of his day.

"I helped make the Dodgers famous, and they helped make me."
Some of Peskin's work from that era helped document the breaking of the color barrier in baseball. Iconic photos of icons like Jackie Robinson and Hank Aaron became instantly recognizable to fans everywhere! Hy had a unique style and method that revolutionized the way photographers covered sports. Jim Murray, of the Los Angeles Times, wrote in 1961: " [Hy] runs more laps than Vladimir Kuts and this is remarkable because Hy only stands about 5'7" and weighs about 195, most of it evenly distributed below the waist. Moreover, he ran his laps under full pack of two Leicas, one Rollei, sacks full of film, a telegraph from the editor, and a note from his wife telling him not to forget to pick up the roast. And Hy was doing all this on only three hot-dogs, a Pepsi and a (double) bag of peanuts. I think Hy's 72-yard dash across the infield under full equipment was the finest I have ever seen…"
While most photographers of his day stayed isolated, shooting from the press box, Peskin sought angles and moments from the field – right in the action. As Peskin once told his biographer, John Thorn: "Anticipation is the key word in the coverage of all sports… There was a particular batter, he hit, I shot, as he ran past me towards first I ran past him the opposite way, around home plate towards third base because there had been a runner on first base. As I ran to third, here comes the base runner from first, sliding into third. I got the picture but the fielder dropped the ball and it was rolling away. Now the base runner picked himself up and was running hard past me toward home plate. I wheeled around and ran as hard as I could behind him and got just in time, close enough to home plate, to shoot him sliding into home. I thought it was one of the greatest stunts I had ever pulled."
Peskin made a habit of capturing history in the making with unprecedented control of density in color and legendary composition. He framed his subjects in perfect cascades of contrast that highlighted some of the most iconic moments in sports history.

"Always recognizably, a Peskin."

The scope of Peskin's work never had a horizon. As the first staff photographer for Sports Illustrated and one of LIFE Magazine's most prolific contributors, Peskin's subjects were limitless! He was a journalist who sought dynamic methods of covering his assignments, but he was also an artist who sought to push the limits of photography and artistic expression. His experiments with composition, contrast, color density, and over-exposure are evident in many of his works. They became hallmarks of his style and set an industry standard very few could meet. This made him one of the most sought-after photographers of his day! One of Hy's prized assignments was his trip to Hyannisport with then-Senator John F. Kennedy and his fiancé, Jackie Onassis for July 4th weekend, 1953. Here, Hy helped set the stage that made the Kennedy's a national figure, those rolls of film were treasured by Peskin for their role in creating the narrative for a President that defined a generation – and arguably helped foster a fascination for one of the most iconic American families in American history. These photos are among Peskin's personal favorites.
Behind every Hy Peskin photograph, there is a story – be it one of a budding romance between a writer and a President-to-be, the final blow of a hard-fought title fight, or the triumphant comeback-swing of a weary champion. We're proud to celebrate both the story in front of and the story behind the lens.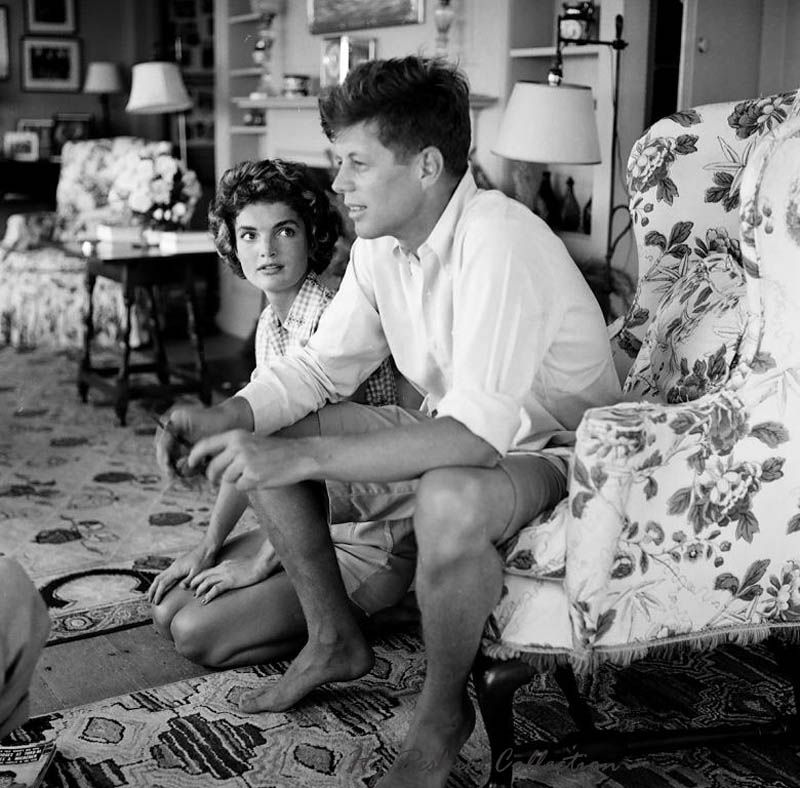 "That was Hy: always defining an epic moment with an epic picture."
The Hy Peskin Collection is an All-American collection that contains some of the most important and iconic photographs of the 20th century. From the legendary Ben Hogan 1-Iron shot of the 1950 US Open, to the first LIFE Magazine cover of 'America's Royal Family' – John and Jackie sailing together in Hyannisport, Peskin has never failed to capture the hearts and minds of the American public – and with it some of the greatest candid moments in modern history.
We, the Peskin Family, are proud to share these incredible treasures with you. We're honored to offer these visual tales. Join us in fascination with an American story and bring a piece of history into your home.
– Preston Blaine Reynolds-Peskin, Managing Director